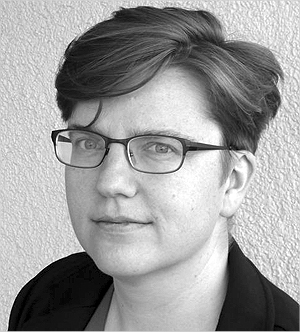 Dr. Cerstin Mahlow
Linguistic Units in the Writing Process. Systematic Study of Planning, Revising, and Editing
E-Mail

Postal Address

Universität Bern
WBKolleg / IPN
Muesmattstrasse 45
3012 Bern
Cerstin Mahlow
Cerstin Mahlow has studied Computational Linguistics, Spanish Linguistics and Literature, and Political Science at Friedrich-Alexander University Erlangen-Nuremberg; she obtained her PhD in Computational Linguistics from the University of Zurich in 2011 with a thesis on linguistically supported revising and editing. She then worked as postdoc researcher in the SNSF-funded project OLdPhras at the University of Basel. From April 2013 until March 2014 she acted as substitute professor for General and Computational Linguistics at the University of Konstanz. From 2014 until 2016 she worked at the University of Stuttgart and the Institut für Deutsche Sprache in Mannheim; from October 2016 until March 2017 she was guest professor for Computational Linguistics at the Institute for Natural Language Processing (IMS) of the University of Stuttgart.
Her research interests lie at the intersection between writing research, document engineering and natural language processing. As computational linguist, she focuses on systematic modeling of empirical data from writing processes, aiming to gain new insights for linguistics, computational linguistics, digital humanities, and human-computer interaction. She is currently working on the roles linguistic units play in the writing process, in particular multi-word expressions, grammatical constructions, and co-reference chains.
In Fall Semester 2016, Cerstin Mahlow is Junior Fellow of the Walter Benjamin Kolleg of the University of Bern.
Research Project
Linguistic Units in the Writing Process. Systematic Study of Planning, Revising, and Editing
Research Foci
Writing Technology | Document Engineering | Writing processes | Dynamic visualization of process data | Interactive natural language processing (NLP) in real world applications | (Computational) morphology | Phraseology | Human-Computer-Interaction | Adaptive computer-assisted assessment